THE FAMILY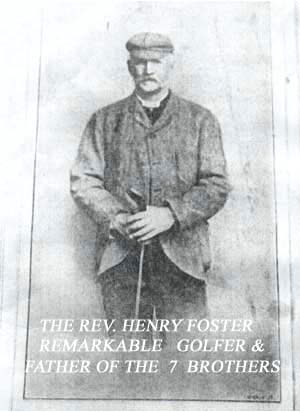 THE FATHER
In 1867 Henry Foster aged 23 joined the staff of Malvern College founded only two years earlier. He was a capable cricketer, fives player, rower and archer from Winchester College, Cambridge and was ordained in 1869. After marrying Sophia Harper in 1871, he was invited to start No 5 House as housemaster. He was full of energy, enthusiasm, and imagination, and this lasted during his 48 years as a master with the College. He made a tremendous contribution to Malvern and was involved in the making of the cricket pitch, acquiring a football field , swimming baths and racquets courts. He was the first scratch golfer in the Midlands and a founder member of Worcestershire Golf Club. Of the 10 surviving children, there were 7 boys and 3 girls. These girls were also exceptional golfers and Cicely played for England. Their knowledge of cricket was superior to the average youth and a couple were known to bowl to their brothers at Lords. The Rev. Henry was therefore able on holiday occasions to put a team into the field which was very hard to beat. All seven brothers born at No 5 later joined their father's house as pupils and for virtually 25 years held sway in the sporting arena.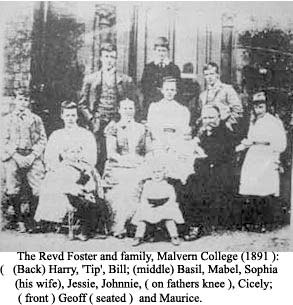 A Remarkable Golf Match at Malvern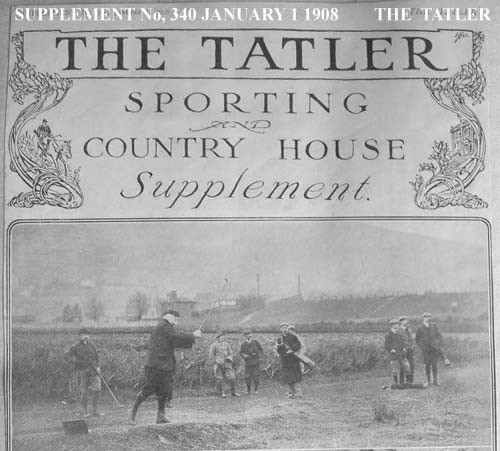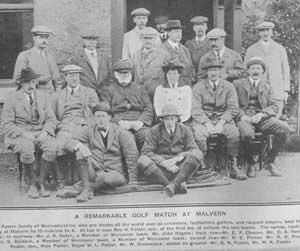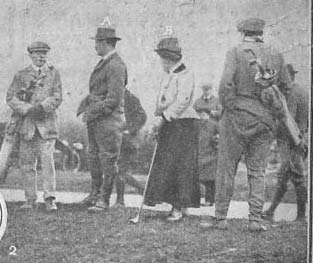 The famous Foster family of Malvern, who are known all over the world as cricketers, footballers, golfers, and racquet players, beat the Worcester club at Malvern by 10 matches to 4. The names reading from left to right are : in doorway--
Mr J. G. Baker, a Member of Worcester team, Mr John Rogers. Back Row-- Mr E. F. Chance, Mr C. A. Horn, Mr F. R. Burrows, Mr S. Baldwin, a Member of Worcester team, Second row--Mr R. E. Foster, Mr H. K. Foster, Rev. H. Foster, Sen., Miss Foster, Major W. L. Foster, Mr W. Greenstock. Seated on the ground-- Mr G. N. Foster, Mr M. K. Foster.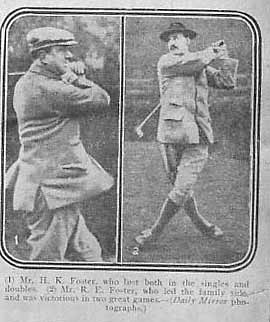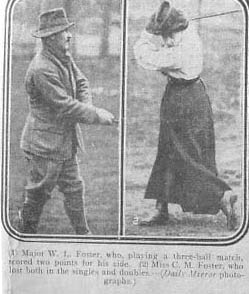 THE SEVEN FOSTERS - an overwhelming athletic family.
One of the famous sporting families is the Fosters of Malvern. This family was certainly the cricketing family of yester-year 'par excellence' - one whose members could boast of deeds and records that would bear comparison with any of those that had proceeded it. This family had produced seven brothers who had shown the highest ability and excellence in the summer game; a family which had often furnished so many players of the team it supported (Worcestershire) that wits playfully termed the County 'Fostershire' in the acknowledgment of the prowess of these famous brothers.
"Thank goodness we have reached the end of the Fosters at last" said the Headmaster of a public school - even when M.K. and N.J.A. won the racquets championship in the same afternoon.
Many other Head Masters joined in the jubilation. They loved the Fosters in International and County cricket but the Fosters gave precious little chance to anybody else in public school competitions. There were many of them and they were all so good and came on with the regularity of the season.. As one Foster was elevated to the University, a younger brother came sailing triumphantly up the school championships. They won all they could at school - the next Foster dynasty will have to wait for another generation.
When the record of athletic families comes to be written, the Fosters will inevitably claim the first chapter. They took to ball games as other infants take to the bottle - and almost as soon. Between them, the seven Foster brothers scored a total of 42,000 runs in First Class Cricket.
Captains of Worcestershire
H. K. 1899, 1901 - 1910 & 1913
R. E. 1900
M. K. 1923 - 1925
Centuries
H. K. 20
R. E. 13
M. K. 12
G. N. 7
W. L. 3
1500 - 2000 Runs in a Season
R. E. 1900
H. K. 1903/ 1904
M. K. 1925 / 26
Over 1000 Runs in a Season
8 times by H. K.
3 times by R. E.
3 times by G. N.
1 by W. L.
R. E. scored over 1000 on a tour ( Australia 1903 / 1904 )
Any other sporting information would be welcomed.
Please use e-mail.