Home The Family The Brothers Links Email

B. S. Foster

School Prefect.
Cricket X1
Football X1
Fives Pair
Rackets Pair Winners at Queen's.
Amateur Champion and Amateur Doubles Champion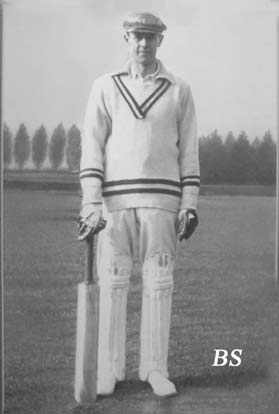 BORN 12-2-1882

AT MALVERN

DIED 28-9-1959
AT HILLINGDON
HOSPITAL
HILLINGDON

BATTING AVERAGE
| | | | | | |
| --- | --- | --- | --- | --- | --- |
| Innings | Not Out | Runs | Highest | Catches | Average |
| 42 | 0 | 783 | 94 | 24 | 18.64 |
Basil was a popular good-looking man who was devoted to his family and for a time a very successful actor and manager at the Shaftsbury Theatre. However he had the natural sportsman in him and would gladly have exchanged a West End sellout for a couple of perfectly executed cover drives. He was a first class cricketer who played for Worcestershire and Middlesex, but never had the time to devote to County and higher cricket like his brothers - due to his touring in his profession. Otherwise he would undoubtedly have played more than seven matches for Worcestershire and twelve for Middlesex. He was not a batsman like Harry, Bill, Tip and Geoff, but he was a most capable stroke player, though he lacked the patience and resolution to score consistently. However playing for Malvern against Repton in 1900 he scored 102 in 37 minutes, and all in all he had the means to be as good as his brothers. In 1907 he made 88 for the M. C. C. against the South Africans with their baffling variety of googly players on route to the only innings defeat of the tour
and 126 for the M. C. C. at Hertfordshire.

He showed the same brilliant way with ball games as the rest of the family, and with football he was a valued member of the Corinthians for many years. He was a formidable scratch golfer and nearly as successful a racquets player as Harry. At Queen's he won the England Amateur Singles in 1912 and 1913 and was in the victorious Doubles line up five times.
No doubt with more time available, like his brothers, he would have been around the top in all games.