Home The Family The Brothers Links Email

An account of Malaya's memorable win over an Australian X1 in 1927
by Humphrey Brooke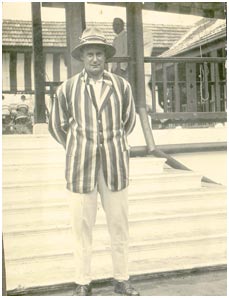 N. J. A. Foster
As 'The Cricketer' of 23rd July, 1927, puts it ' An innovation was effected by the dispatch of an Australian team to play a series of matches in the Far East. The side sailed from Sydney on May 3rd and was captained by C. G. Macartney ' The story however begins the previous year when Bertie Oldfield, who was on his way back to Australia from the 1926 test series in England, met Maurice Phillips, a planter from the Seremban area in Malaya, on board ship and between them they were responsible for the idea and the initial arrangements. In fact Oldfield was eventually responsible for most of the work at the Australian end and the team was known by many people as Oldfield's rather than Macartney's. Several wealthy Australian miners in this country gave substantial financial support for the venture. Much of the information in this article has been supplied by Johnnie Foster who was Captain of the winning Malayan team and who has been extraordinarily helpful in answering a barrage of questions, supplemented by giving some recollections of the match . His many friends out here will be pleased to know that he is well and back where he was born, in Malvern, Worcestershire.
The Malayan side was picked at the end of a large meeting in the Selangor Club at which the tour arrangements were finalised. Foster was asked to Captain the side and he agreed providing he could have Dr. Hennessey, a very fine old spin bowler, on his side. Foster was criticised at the time for making this stipulation but his choice was gloriously justified by events. In fact Foster, Hennessy and Bostock-Hill played the major role in the unfolding scene, but it was the 2 major schemers, Foster and Hennessy, that were separately the " deus ex matchina ".
The first day's play did not start until 12.15 p.m. Macartney won the toss and sent Malaya in to bat which Foster considers was a wise decision as the pitch looked tricky and played so. Sir Hugh Clifford had arrived that morning by special train on his way from Ceylon to Singapore to take up his post as Governor and went out with the two Captains to inspect the wicket. He had however to continue his journey without watching the match. A very large and expectant crowd had turned up , little knowing what an absorbing match they were about to witness.
There is not much to be said about Malaya's 1st innings of 108. With the difficult, drying pitch and slow outfield and the quality of the bowling, it was about as much as could be expected and such as it was the innings was held to-gether by Foster (30) and Rhodes (16). Andrews, bowling both leg and off spinners, was put on with the score at 30 and then took 7 wickets for 44. Foster writes : he was very difficult to play on that poor pitch but considers on tour Macartney was much their best bowler- an opinion certainly born out by the records.
Then came Australia's first innings. the wicket was no worse and the visitors were expected to obtain a convincing first innings lead but the wise captaincy of Johnnie Foster and equally wise cricketing brains of the two slow bowlers combined to get them out for 85. At one stage the Australians were in dire distress with 6 wickets down for 29 and batting one short with Oldfield injured. The damage was done by Doc Hennessey . Although this was only the third match of the tour, it already seemed as if Woodfull rather than Macartney would be the danger man and when the former had been in a short time, Foster asked Hennessey how he proposed to get him out. he replied ' I have been bowling him off-spinners only so far. He does not know I can bowl leg breaks and you must catch him at silly point .' And ' voila ,' it was done ! Shortly Everett came in and determined to hit his way out of trouble. After a few 6's, Hennessy kept his head and suggested to his captain that Everett would sky one soon and if he would put more fielders in the deep, including himself fairly straight, he would tempt the batsman. No sooner said than done - and 'voila' again - thanks to that most remarkable catch of Foster's. He confirmed it was indeed the best catch of his life and that he had never seen a ball hit so high on any cricket field.
There was great ovation for Doc Hennessy, Foster and his team . Later in the day, an incredulous Reuters representative requested confirmation of the score before transmitting to Australia !
By now, tension and excitement were beginning to mount. How would Malaya fare in their 2nd innings ? In the event, thanks to a magnificent 71 by Congden, with nobody else reaching 20, Malaya totalled 158. Congden's innings poses a bit of a conundrum. ' The Cricketer ' writes that ' he obtained 71 of the first 110 runs scored with only one very difficult chance. He obtained his runs all round the wicket and among his hits was a six off Everett '. Johnnie Foster writes that Congden batted very well, mostly with one hand, which rather exasperated the Australians ! Useful innings ( in the context of this low scoring match ) were played by Bostock-Hill, Leijffius, Braddel and Brand. The wickets were again taken by the spinners, Macartney, Adams and Andrews.
Now the tension was really reaching fever point. Hennessey and Bostock-Hill opened the bowling and I suppose honours must have been about even when the 2nd wicket fell but then Woodfull and Andrews started to build up a third wicket partnership with Macartney still to come and Woodfull batting ominously well. Then came one of the sudden changes of fortunes that makes cricket such a fascinating game. Woodfull was run out and run out by Penman of all people, the only Australian in the Malayan side. ' Et-tu, Brute ', sort of stuff and to rub salt in the wounds, he got the wicket of Andrews, Macartney and Olfield in his 3 wickets for 25. All four Test cricketers therefore fell to him one way and another. He must have been popular with his fellow Australians ! Hennessy got 3 for 30 and Bostock- Hill 2 for 60 and all was over with a victory for Malaya by 39 runs.
Macartney with the sportmanship of good cricketers, rushed down the pavilion steps and was the first to congratulate Foster and his team. Foster was inundated with telegrams and probably had to engage a special shorthand-typist to cope with them. One telegram was from Sir Hugh Clifford who had just arrived in the country as Governor. The Australians made no excuses. They said it was a bit hot for them. But what did that matte ? At any rate it produced a health thirst.
The Cricketer writes ' the home sides fielding was excellent and N. J. A.'s management of his team left nothing to be desired. It was the greatest day in Malayan cricket history '. All this and Hennessy's 10 wickets for 72 in the match.